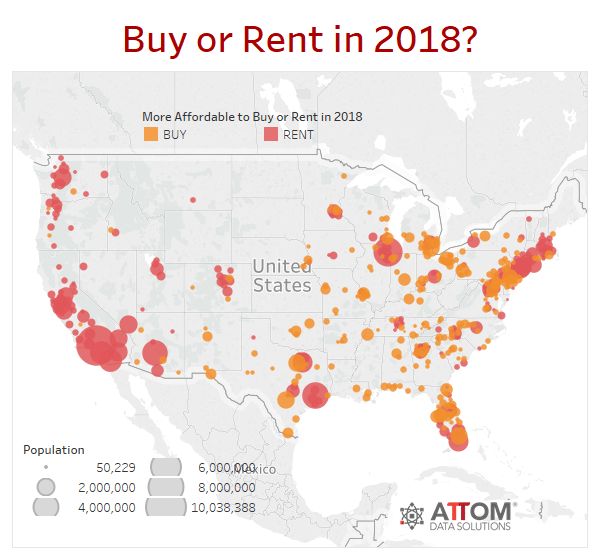 With home prices rising 7 percent year-over-year, renting is often seen as a more affordable alternative to buying. But as ATTOM Data Solutions latest rental affordability report shows, that isn't necessarily true for a good chunk of the population.
According to ATTOM's analysis — which includes fair market rent data for 2018 from the U.S. Department of Housing and Urban Development, wage data from the Bureau of Labor Statistics along with public record sales deed information from ATTOM's database — buying a home is more affordable than renting a three-bedroom property in 240 of 447 U.S. counties (54 percent).
In the nation's 14 most populated counties, and in 30 of 39 counties with a population of 1 million or more — including Los Angeles County, California; Cook County (Chicago), Illinois; Harris County (Houston), Texas; Maricopa County (Phoenix), Arizona; and San Diego County, California — it is still more economical, albeit expensive, to rent.
On average, renting a three-bedroom property requires an average of 38.8 percent of weekly wages. But in certain counties across California, Virginia, Hawaii and New York, renters are spending upwards of 79.5 percent of their monthly income on rent — well above the affordability threshold of 30 percent.
Marin County, California (79.5 percent of average wages to rent); Spotsylvania County (Washington, D.C. area), Virginia (75.5 percent); Honolulu County, Hawaii (71.9 percent); Sonoma County (Santa Rosa area), California (67.6 percent); and Kings County, New York (67.4 percent) were the most unaffordable markets for renters in 2017.